FAQs
What guarantees do you offer?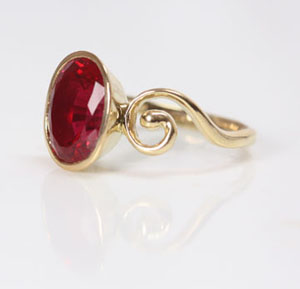 At Design Village Diamonds every piece is guaranteed for stated diamond quality and weight. The gold and platinum content is guaranteed as marked. You may choose to get our jewelry appraised by an independent appraiser of your choice or one we would suggest.
What after sale care do you offer?
All jewelry purchased from Design Village Diamonds is eligible for a free cleaning and inspection every six months. This is a courtesy we extend to our customers so your jewelry retains the sparkle just like the first day it was received.
What is your return policy?
A loose diamond may be returned within seven days from the date of receipt. A stock item may be returned within 2 weeks from the date of receipt. You must obtain a return authorization number before returning any item. Merchandise must be returned by USPS Registered mail fully insured. After inspecting the returned merchandise for it's original condition we shall issue a credit after deducting shipping charges. We caution you against trying to mount a loose stone and then dismount it. Gemstones are likely to get damaged in this process, if the jeweler is not adequately skilled. However, since custom orders are strictly made with your specifications they cannot be returned.
How long does it take to receive Custom Jewelry?
Depending on the work needed for each piece, availability of special types of diamonds and time of the year it could take any where from one week to four weeks.
Do you offer price reductions and discounts?
At Design Village we provide our customers top quality gems and diamond jewelry at best prices possible. We do not play games.
Will I be charged sales tax?
Design Village only collects sales tax on orders that are delivered to addresses within the state of New Jersey.
Why do you use GIA and AGS labs for grading?
The Gemological Institute of America and the American Gemological Society both founded in 1930's are acknowledged as the most reputable diamond grading laboratories in the world. A GIA or AGS certification increases the value of a diamond.
What is the custom design process?
If you have a jewelry design in mind here is how we go about creating a beautiful custom piece of jewelry for you.
Step 1
You can provide a concept, a jewelry drawing or photo and our artist will come up with a few alternative jewelry designs.
Step 2
After you select a design we discuss the jewelry style, appearance, type of metal - 14K white gold, 14K yellow gold, 18K white gold, 18K yellow gold, Platinum, proportions, height & type of head in case of a ring, prong details, sizes & descriptions of diamonds & other gemstones, ring size and other necessary details. If a matching wedding band will be added later this is a good time to think about it.
Step 3
We shall provide you with a detailed quote and estimated time. Depending upon the jewelry design and it's complexity it could take anywhere from 10 days to 4 weeks to create a fine piece of custom jewelry that will last a lifetime for you to enjoy.
Step 4
Once the jewelry design is approved we start work after receiving a 50% deposit. You will receive photos of your finished piece. Upon payment of the balance your finished custom creation is either delivered to you or shipped via USPS Express mail or UPS overnight service. Each piece carries our lifetime warranty against manufacturing defects. There are no refunds on custom work. All custom creations we produce become the intellectual property of Design Village.
We look forward to help your vision become a reality. To discuss your custom jewelry, please call us at 1-888-718-7252.
What kind of insurance do you suggest?
We strongly urge you to get a rider on your current home owners / renters insurance policy or purchase insurance through Chubb or Jewelers Mutual Insurance company to insure your jewelry. You may get the jewelry appraised by an independent jewelry appraiser we suggest or you may go to one of your choice. The appraisal along with the original laboratory grading report, is required by most insurance companies.
How much is shipping?
Cost of shipping depends upon the value of the jewelry, although it's minimal. We shall be glad to quote you your total cost for a piece of jewelry including shipping and applicable taxes before taking in your job.
Will you copy a design I saw somewhere else?
It may happen that you do not like to choose a design from the hundreds of styles we offer and are committed to one specific jewelry design. We shall not copy a designer jewelry piece as it could be the creation of that jeweler. However, we could create a piece inspired by a style or a design you have in mind.
Will you set diamonds I already have?
We prefer to work with our own diamonds. If we agree to work with your diamonds it will need to be accompanied with lab report/certification or independent appraisal. Our insurance policy covers our own diamonds during setting, etc. It is the responsibility of the client to provide insurance for any outside diamond. We cannot assume responsibility for damage to client's diamonds.
Will you replace one of the diamonds lost out of my ring?
From time to time we come across cases where due to poor gold quality and workmanship diamonds come loose from jewelry. In the markets where gold standard is not adequately enforced the gold in jewelry is porous and therefore the prongs do not hold well. We shall work on such a piece only after through examination because if the workmanship of the original jewelry is poor, the repair will not hold.
Do you accept trade-ins if the diamond was purchased at other store?
If the diamond you are trading in is compatible with our overall inventory of diamonds we shall be glad to accommodate you. Since all our diamonds are of fine makes and well balanced with respect to the 4C's sometimes it becomes difficult to turnaround a diamond that does not match with the rest of our diamond inventory.
A jeweler has offered to sell me a diamond at wholesale. Could that be true?
Do your homework. The only way to be sure you are buying the best at the best price is to shop around. After all, this is one of the most important purchases you will make in your life. You want to know what you are getting and what you should expect to pay for it. No retailer can sell a diamond at wholesale price.
Don't bigger diamonds always cost more?
Wrong! What might seem like subtle differences in quality can make a dramatic difference in price. With diamonds it is all about quality. And good quality is rare and therefore it is not cheap. Bigger diamonds are harder to come by than smaller ones, so they are more expensive. The fact is very high quality smaller diamonds are much rarer and more precious than lower quality large diamonds.
What is the difference between white gold and platinum?
White gold is a mixture of yellow gold and nickel. And depending upon the gold content it could be either 14kt or 18kt. But due to the yellow tinge it is Rhodium plated after the diamonds are set. Rhodium plating gives it the look of Platinum. Platinum is more durable than gold but is comparatively softer and is scratched easily. Depending upon one's handling white gold jewelry may need to be Rhodium plated once every 3 to 4 years. Platinum is 90 -95 % pure, and will never show a yellowish tinge.
What is laser inscribed diamonds?
Most diamonds we carry are certified and are accordingly laser inscribed with their respective certificate number and name of the certifying lab. If for any reason the diamond does not have such an inscription we shall be glad to do it for you.
What are Conflict Diamonds?
Conflict diamonds, also known as "blood diamonds" , are rough diamonds used by rebel movements or their allies to finance armed conflict aimed at undermining legitimate governments. We do not sell conflict diamonds and will certify the diamonds we sell accordingly. Alternatively, we offer diamonds of Canadian origin also known as Canadian Code of Conduct diamonds and Canadian Government certified diamonds which are mined in Canada and polished at ultra-modern facilities in Canada under government supervision. These are the Polar Bear and Polar Ice Brand diamonds. Please learn more on Canadian Diamonds.
Do you sell Conflict Diamonds?
We share the public's concern regarding conflict diamonds and support Kimberley Process instituted by the United Nations. At Design Village Diamonds we purchase our diamonds only from legitimate sources that do not deal in Conflict Diamonds.
How much should an engagement ring cost?
This is a personal preference but a rule of thumb is 2 to 2-1/2 months salary.
What are Hearts & Arrows diamonds?
Hearts & Arrows diamonds are valued for their cutting precision and obviously uniqueness. These are round brilliant diamonds that have the facets of crown coincide with those of the pavilion. A Hearts & Arrows viewer is a tool that reflects optical symmetry. Looking through it one will see arrows radiating outward in the crown of a H&A diamond. And turn the diamond over to see a circle of hearts in the pavilion. All facets must be precisely aligned for the hearts and arrows to appear correctly. If any part of the diamond is asymmetric the patterns will appear uneven or distorted. A diamond is Hearts and Arrows does not automatically mean that it has Ideal proportions or necessarily has great brilliance.
Are diamonds cheaper at cutting centers like in India, Israel or Belgium?
First of all, although Antwerp, Belgium is known as a major diamond hub, there is very little diamond cutting per se. Today it is only a rough diamond trading center. India and Israel are major cutting centers. The governments in both the countries offer substantial incentives to diamond cutters to export their merchandise. Besides, a diamond cutter is more interested in selling his production quickly and in large volume rather than selling single diamonds locally. Therefore the cutters in India and Israel are more interested in exporting diamonds than selling local market.
What are Sarin, Ogi and Helium reports?
These are all devices used by gemological laboratories, vendors and appraisers to precisely measure diamond proportions.